Twin Tec S3 - The next generation Water Softener
This revolutionary new system makes things so simple! This system uses convienient "block salt" (as opposed to 25kg bags of granular salt). It keeps track of your water usage, measuring right down to every drop. All this is backed by a 10 year guarantee. Aqua Safe (softwater.ie) are proud to be the national distributors for this softener system in Ireland.

In the picture below you can see the Twin Tec System, and the convienient packs of block salt.
Further information on the Twin Tec system can be obtained from the Manufacturer's website.
Advantages of a Twin Cylinder Water Softener
Continuous Softened Water (24/7) with its twin cylinder design.
Compact design with its twin cylinder.
Uses convenient "block salt", cleaner and easier to handle.
Accurate Displacement Metering uses up to 40% less salt.
No programming or electrics.
Superior Quality, designed and manufactured in the U.K.
10 Year Manufacturer's Warranty!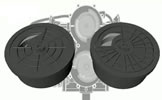 Photos of the revolutionary "Twin-Tec" - Non-Electric Twin Cylinder Water Softener
images/productphotos/twin-tec-water-softener-newly-installed.jpg

A newly installed Twin-Tec Non-Electric Water Softener, under the Kitchen Sink

images/productphotos/twin-tec-water-softener-complete-under-kitchen-sink.jpg

The Twin-Tec Water Softener fits easily under your Kitchen Sink

images/productphotos/twin-tec-water-softener-uses-convenient-block-salt.jpg

The Twin-Tec uses convenient Block Salt, easily visible in the clear front cover

images/productphotos/twin-tec-softener-fits-beside-water-filter-and-washing-machine.jpg

The Twin-Tec can be connected to a drinking water-filter and your Washing Machine

images/productphotos/twin-tec-water-softener-will-reduce-amount-of-cleaners-required.jpg

Using the Twin-Tec Water Softener will halve your Detergent and Cleaning Products